By the manipulation of metal atom's electrons we can cover one metal with another. This is called electroplating. This process involves a power source which sucks out electrons from one metal and pumps them into the metal we want to cover.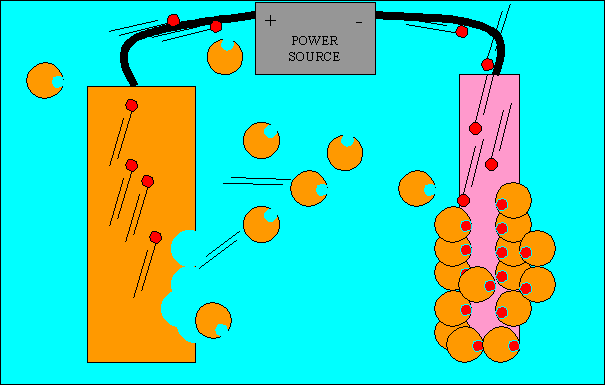 Electroplating is very useful when cheap, strong metals, such as iron, can be coated with other metals to protect them from rusting or to give them an expensive appearance. The bumper bars of vehicles are chrome plated. The cheap, strong iron is coated with a thin layer of chromium which gives a shiny appearance and protects it from rusting. Most of our canned food comes in tin plated containers. The cans that store food are made of iron with a thin layer of tin deposited on its surface. The tin layer fully protects the iron from rusting.
Some of the silverware is not pure silver at all. Most of the silver cutlery around the home is really iron plated with a layer of silver.
Look at the diagram above. What happens to the number of copper ions in solution as the plating process in underway?
Before a metal is coated with another metal it must be cleaned and free of oil or grease. Why?