A fuel cell that can provide power for buses is the phosphoric acid fuel cell, PAFC. The electrolyte is concentrated phosphoric acid and the reactants are hydrogen and oxygen gases.
A simplified sketch of a phosphoric acid fuel cell is given below.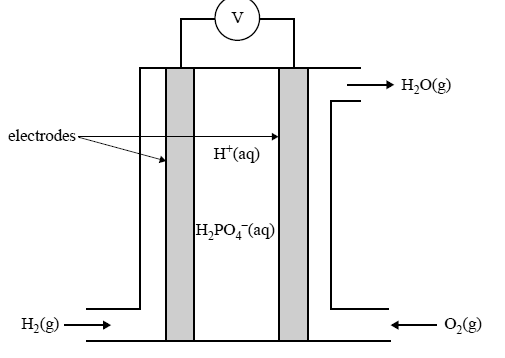 Give the equation for the half reaction that takes place at the
i. anode of this cell
ii. cathode of this cell.
Solution
On the diagram of the fuel cell above, draw an arrow to show the direction in which the H2PO4– ion moves as the cell delivers an electrical current.

Solution
A particular cell operates at 0.92 V. How much energy, in kJ, is delivered per mole of hydrogen in this fuel cell?
Solution
By comparing the energy delivered per mole of hydrogen in the fuel cell and the heat of combustion of hydrogen, calculate the energy efficiency of this fuel cell.
Solution
Describe one advantage and one disadvantage of such a fuel cell compared with a petrol-driven car engine.

Solution