1) The graph shows changes in pH for the titrations of equal volumes of solutions of two monoprotic acids, Acid 1 and Acid 2.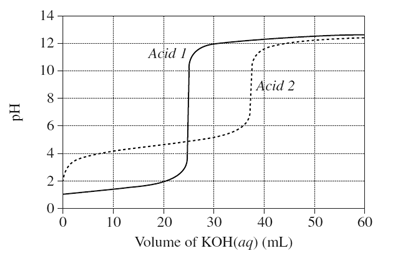 (a) Explain the differences between Acid 1 and Acid 2 in terms of their relative strengths and concentrations.
Solution

(b) Name the salt produced by the reaction of an acid of the same type as Acid 2 with KOH(aq).
Solution

(c) Calculate the concentration of hydrogen ions when 20 mL of KOH(aq) has been added to Acid 1.
Solution

(d) Why would phenolphthalein be a suitable indicator for both titrations?

Solution