1 )An electrochemical cell is constructed using two half cells. One half cell consists of an inert platinum electrode and a solution of Fe2+ and Fe3+. The other half cell consists of a lead electrode and a solution of Pb2+.
Current will flow from one electrode to the other electrode when the cell is completed using a voltmeter and a salt bridge.
(a) Write relevant half equations and a balanced net ionic equation for the overall cell reaction.
Solution
b) Calculate the standard cell potential (E° ).
Solution
c) Identify the anode, cathode, metals and ions by labelling the following diagram.
Solution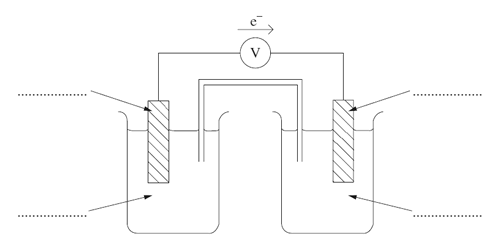 d) Identify an appropriate electrolyte to use in the salt bridge.

Solution