1) In a problem-solving activity a student is given the following information regarding three half-equations. However, although the three numerical values of E0 are correct, they have been incorrectly assigned to the three half-equations.

The objective of this task is to correctly assign the E0 values to the corresponding half-equation.
To do this, the student constructs standard half-cells for each of the above half-reactions. These half-cells are connected, one at a time, to a standard hydrogen half-cell as indicated in the diagram below.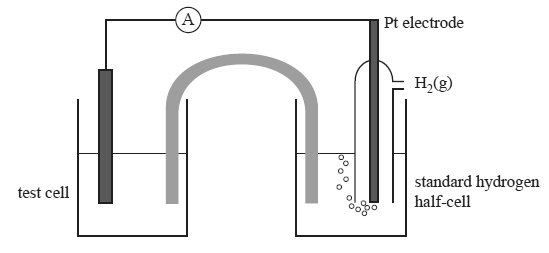 The following observations were made either during or after the electrochemical cell discharged electricity for several
minutes.

a. The above information can only be used to assign one of the E0 values to its corresponding half-equation. Identify this half-equation by placing the correct E0 value next to its corresponding half-equation in the table below.

Solution
b) Explain why the other two E0 values cannot be correctly assigned to their half-equations.
Solution

c) Explain why the pH of the solution in the standard hydrogen half-cell increased in experiment 3.


Solution