1) Equal volumes of four 0.1 mol L−1 acids were titrated with the same sodium hydroxide solution. Which one requires the greatest volume of base to change the colour of the indicator?
(A) Citric acid
(B) Acetic acid
(C) Sulfuric acid
(D) Hydrochloric acid

Solution
2) A sample of water from a stream, suspected to be contaminated with metal ions, was analysed. The results of some tests on the water are recorded in the table.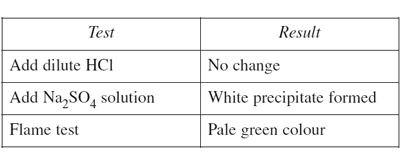 What is the most likely contaminant in the water?
(A) Ba2+
(B) Ca2+
(C) Cu2+
(D) Fe3+
Solution