2) Below are the structures of a number of important molecules.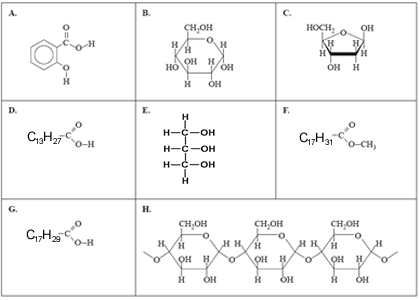 In each of the questions select the letter that corresponds to the letter of the molecule above.
a) Which molecule is used in the synthesis of acetylsalicylic acid?

b) Which molecule is the product of a condensation reaction?

c) Which two molecules are produced when a triglyceride containing no carbon-carbon double bonds undergoes hydrolysis? and

d) Which molecule could be a major component of biodiesel?

e) Which molecule is one of the components that reacts to form sucrose?

f) 0.001 mole of which molecule will react exactly with 0.32 grams of bromine?
Solution

Examiner comments to f above.