7) Methanol is produced on an industrial scale by the catalytic conversion of a mixture of hydrogen and carbon monoxide gases at a temperature of 520 K and a pressure of 50 to 100 atmopsheres. The reaction that occurs in the methanol converter is

Carbon monoxide gas and hydrogen gas are mixed in a reaction vessel and equilibrium is established. The graph below shows how the concentration of methanol in this vessel changes with time at three different temperatures. The pressure is the same at each temperature.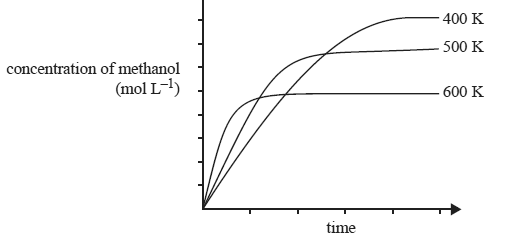 i) Is the reaction exothermic or endothermic. Explain
Solution
ii) Explain why a moderately high temperature of 520 K is used although the equilibrium concentration of methanol is greater at lower temperatures.
Solution
iii) Explain why, at a given temperature, the use of high pressures results in a greater equilibrium concentration of methanol.
Solution
iv) A catalyst consisting of a mixture of copper, zinc and aluminium is used to increase the rate of this reaction. Explain how a catalyst can increase reaction rate.
Solution