1) Magnesium is one of the most abundant elements on Earth. It is used extensively in the production of magnesium-aluminium alloys. It is produced by the electrolysis of molten magnesium chloride. A schematic diagram of the electrolytic cell is shown below.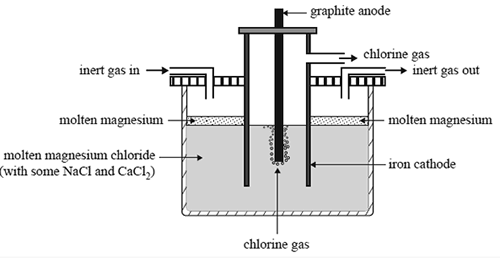 The design of this cell takes into account the following properties of both magnesium metal and magnesium chloride:
• Molten magnesium reacts vigorously with oxygen.
• At the temperature of molten magnesium chloride, magnesium is a liquid.
• Molten magnesium has a lower density than molten magnesium chloride and forms a separate layer on the surface.
a) Write a balanced half-equation for the reaction occurring at each of
• the cathode
• the anode.
Solution
Examiners comments regarding loss of marks by the use of equilibrium arrows and lack of states.