4) Standard solutions of sodium hydroxide, NaOH, must be kept in airtight containers. This is because NaOH is a strong base and absorbs acidic oxides, such as carbon dioxide, CO2, from the air and reacts with them. As a result, the concentration of NaOH is changed to an unknown extent.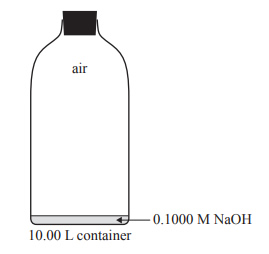 a. CO2 in the air reacts with water to form carbonic acid, H2CO3. This can react with NaOH to form sodium carbonate, Na2CO3.
i. Write a balanced overall equation for the reaction between CO2 gas and water to form H2CO3.
Soluiton
ii. Write a balanced equation for the complete reaction between H2CO3 and NaOH to form Na2CO3.
Solution

b. A 10.00 L container is completely filled with a freshly made 0.1000 M NaOH solution. During a Chemistry class, 9.90 L of the solution is used and air enters the empty space above the remaining solution before the container is completely sealed off from the outside air. The container is then opened. Air enters the container at 101.3 kPa and 21.5 °C. Assume that the concentration of CO2 in the air is 0.0400 %(v/v).
Solution