6) The Daniell cell, a type of galvanic cell, was first constructed in the mid-1800s and this type of cell is still in use today. A diagram of the Daniell cell is shown below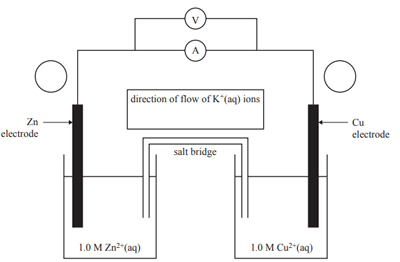 i. Label the polarity of the electrodes by placing a positive (+) or negative (–) sign in each of the circles next to the electrodes on the diagram above.
Solution
ii. Use the electrochemical series to determine the theoretical voltage of this cell.
Solution
iii. The electrolyte in the salt bridge is a potassium nitrate solution, KNO3(aq). In the box above the salt bridge, use an arrow to indicate the direction of flow of K+(aq) ions.
Solution
iv. List two visible changes that are likely to be observed when the Daniell cell has been operating for some time.
Solution
v. What design features of the Daniell cell structure would allow it to produce electrical energy?
Solution