1) Potassium hydroxide, KOH, is made commercially by the electrolysis of concentrated potassium chloride, KCl, solution. A chemist aims to make a solution of aqueous potassium hydroxide, KOH(aq), using electrolysis. The electrolysis cell is shown below. It is operated at standard laboratory conditions (SLC).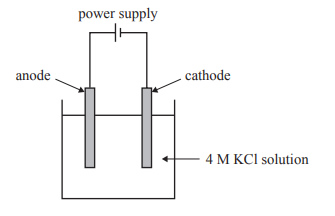 a) Explain why potassium bromide, KBr, or potassium iodide, KI, could not replace KCl as the electrolyte solution, using the cell shown above.
Solution b) When the power supply is turned on, the chemist observes bubbles forming at the anode. Use the electrochemical series to predict the gas formed at the anode
c) A faint smell of chlorine was detected above the anode. Explain this observation.

Solution 2) An electroplating cell containing two platinum electrodes and an electroplating solution is operated at 5.0 A for 600 s. After the cell is turned off, 0.54 g of metal is found to have been deposited on the cathode. Which electroplating solution was used in this process?
A. 1 M AgNO3
B. 1 M Ni(NO3)2
C. 1 M Pb(NO3)2
D. 1 M Cr(NO3) 3
Solution