1) The energy profile diagram below represents a particular reaction. One graph represents the uncatalysed reaction and the other graph represents the catalysed reaction
.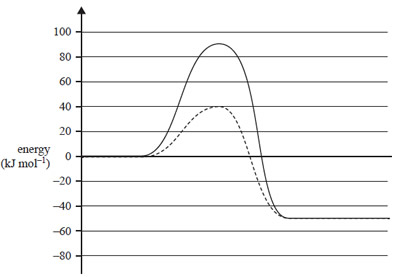 Which of the following best matches the energy profile diagram?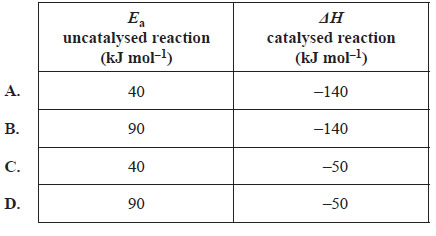 Solution
2) An equation for the complete combustion of methanol is
2CH3OH(l) + 3O2(g) → 2CO2(g) + 4H2O(g)
ΔH for this equation would be
A. +726 kJ mol–1
B. –726 kJ mol–1
C. +1452 kJ mol–1
D. –1452 kJ mol–1.
Solution
3) The kinetic energy of a sample of gas in a container of fixed volume is represented by the distribution curve shown in
Graph 1 below. One change was made to the sample and the resulting distribution curve of kinetic energy is shown in Graph 2.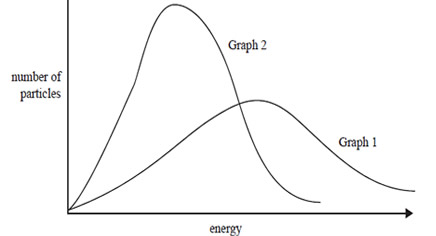 Which one of the following statements explains the change from Graph 1 to Graph 2?
A. The average kinetic energy of the gas molecules decreased.
B. More gas, at the same temperature, was added to the container.
C. More collisions occurred between gas particles.
D. The temperature of the gas was increased.
Solution