2 )High-performance liquid chromatography (HPLC) was used to determine the sucrose concentration in a sample taken from a can of soft drink. Standard solutions were made up using pure sucrose and deionised water. A 1 mL sample of each standard solution was injected into the HPLC column and its peak area was recorded, as shown in the table below.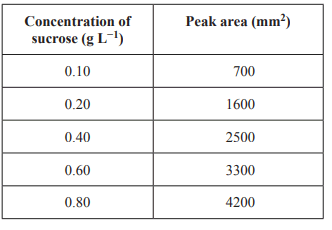 The experimental results (shown as dots) and a calibration line of the concentration of sucrose against peak area are shown in the graph below.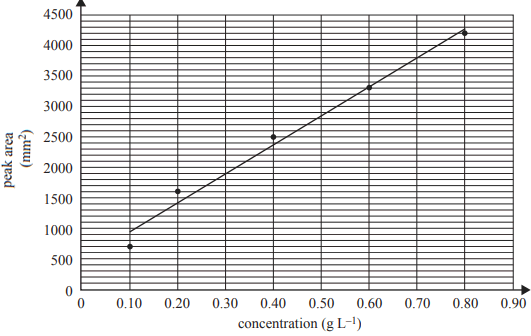 A 5.0 mL sample of the soft drink was diluted to 100 mL in a volumetric flask. A 10.0 mL aliquot of this solution was transferred to a 250 mL volumetric flask and filled up to the calibration mark using deionised water. A sample of this solution was injected into the HPLC column. The peak area of the sample solution at the same retention time and under the same conditions as those used to determine the calibration line was found to be 1900 mm2.
i. Determine the sucrose content of the sample tested in the HPLC, in grams per litre.
Solution
ii. Calculate the percentage mass/volume (% m/v) of sucrose in the 5.0 mL sample of soft drink.