3) Inside the shell of an egg is egg white that encircles egg yolk. The nutrition information for egg yolk and egg white is given in the table below.

a. Poaching an egg involves cracking an egg and carefully placing the contents in a pan of hot water. This allows the egg white to solidify around the egg yolk. Using your knowledge of chemistry, explain why vinegar is sometimes added to the water to produce a poached egg with a runny yolk
Solution
b. The composition of fatty acids found in an egg yolk sample is given in the table below. The melting points for the first three fatty acids are provided.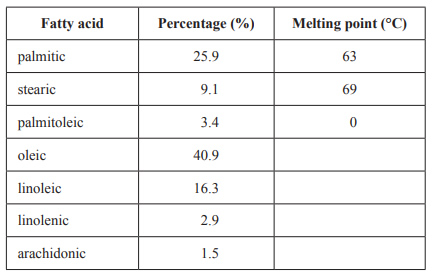 i. The composition of fatty acids in an egg yolk was determined by reacting the fatty acids with methanol to produce methyl esters and then analysing the methyl esters using chromatography. Explain, using the principles of chromatography, how each fatty acid in the egg yolk sample can be identified and the percentage determined.
Solution
ii. Identify the fatty acid in the table above that would have the lowest flash point. Explain your answer in terms of both the:
• melting point trends shown in the table
• structure and bonding of the fatty acids

Solution