5) Research scientists are developing a rechargeable magnesium–sodium, Mg–Na, hybrid cell for use in portable devices. The Mg–Na hybrid cell uses magnesium metal and sodium ion electrodes and a hybrid organic/salt electrolyte, X. A simplified diagram of the rechargeable Mg–Na hybrid cell is shown below.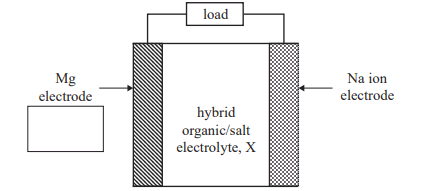 a. The equation for the overall reaction during recharge is
2NaX + Mg2+ → Mg + 2Na+ + 2X

i. Identify the polarity of the Mg electrode when the cell is discharging by placing a positive (+) or a negative (−) sign in the box provided in the diagram above.
Solution
ii. Write the half-cell equation of the reaction that occurs at the Mg electrode when the cell is discharging.
Solution
b. A pacemaker is a small electronic device that is implanted in the body to regulate a person's heart rate. If the Mg–Na hybrid cell were to be used to power pacemakers, what would be two potential safety hazards of having this cell in the body?
Solution
c. One source of Mg is magnesium chloride, MgCl2, which can be obtained from seawater. Explain how Mg can be produced from MgCl2 in an electrolytic cell.
Solution